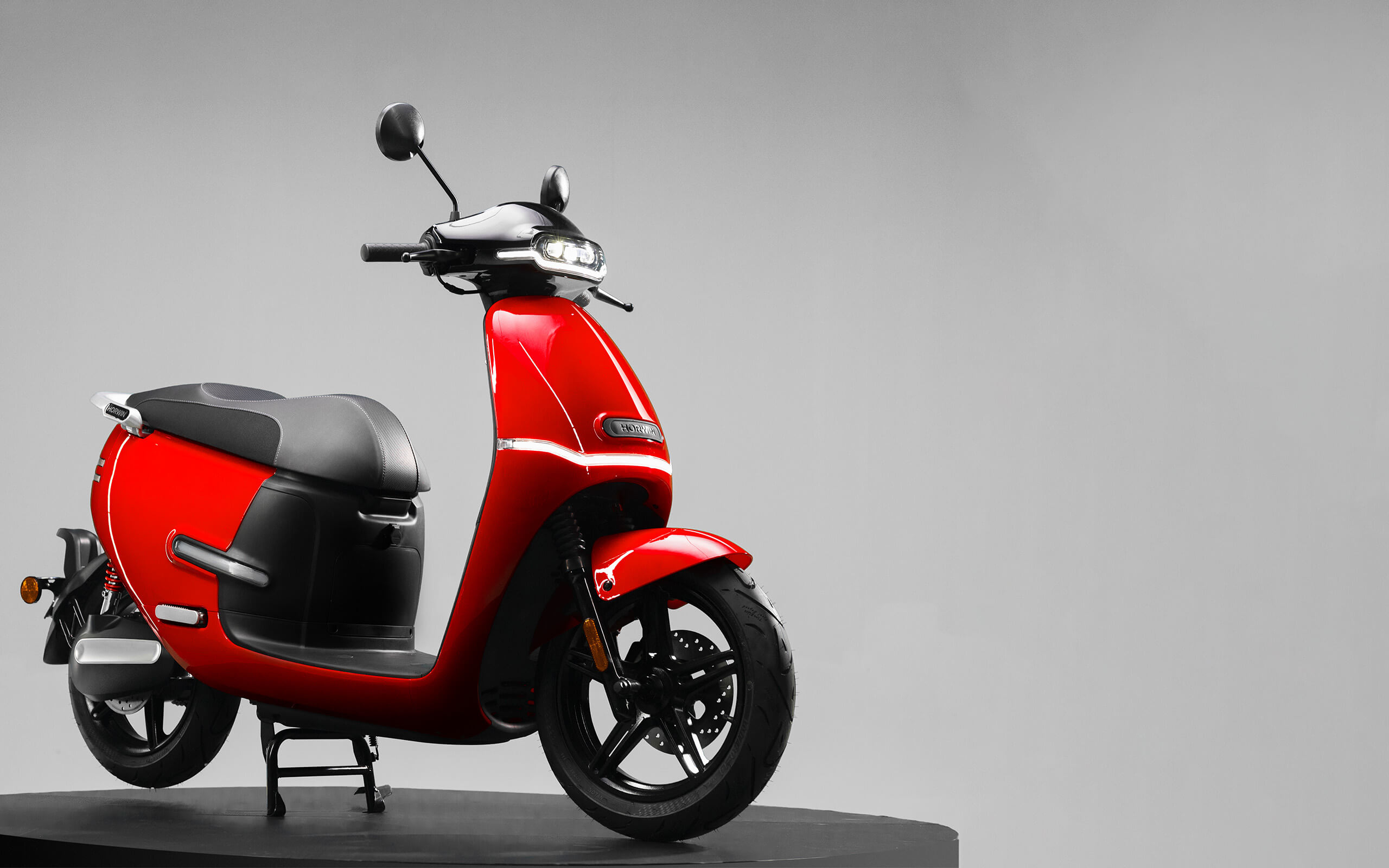 Awarded in the "Product Design" category
Red Dot Award Winner 2021
The Red Dot award has established itself worldwide as one of the most important seals of quality for outstanding design. The HORWIN EK convinced the jury. Rightly so, isn't it?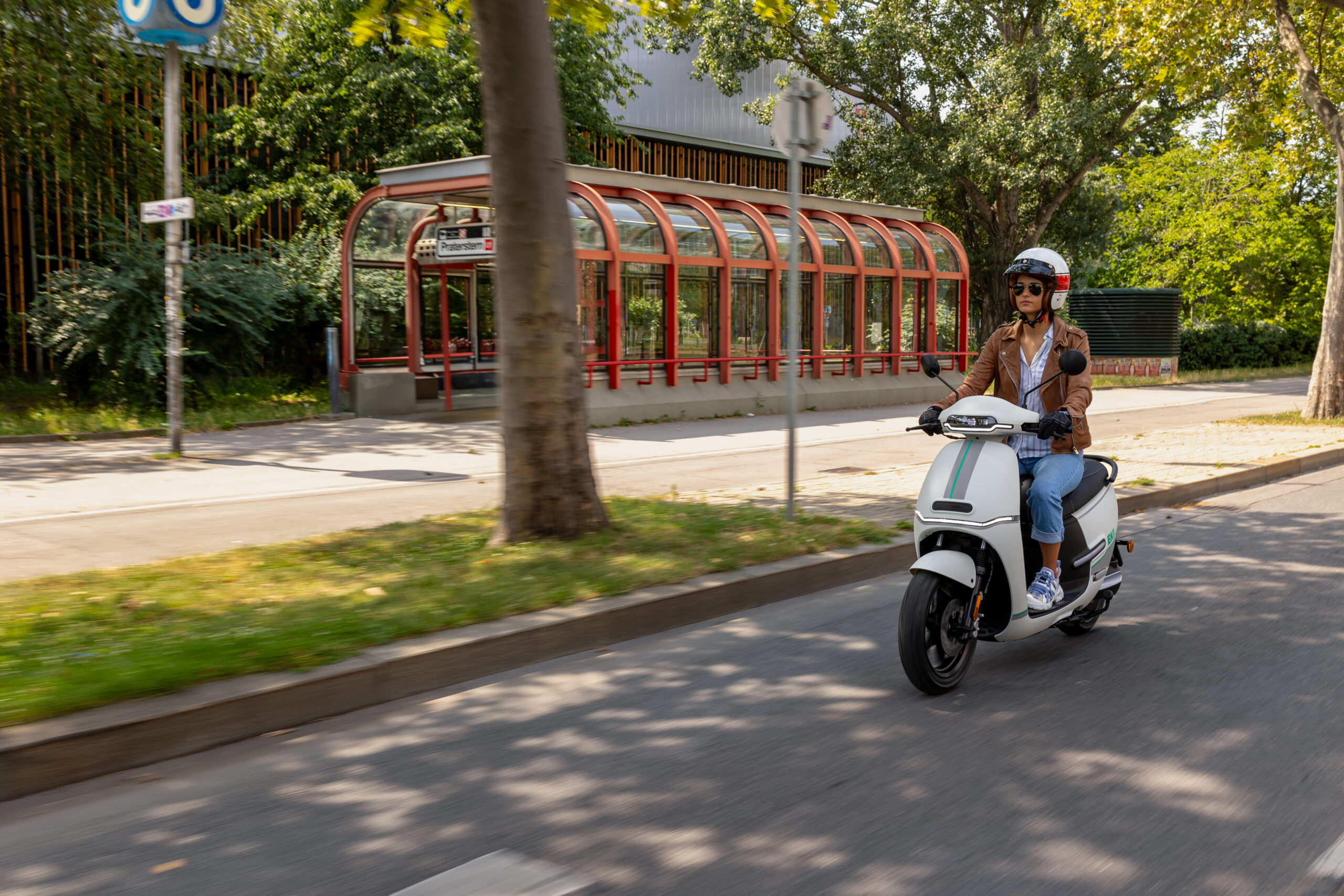 Unmistakable and unique
Design is not a question of taste
Modern design and soft contours provide the perfect combination of fashion and luxury. A diverse selection of colors will convince even the last critic.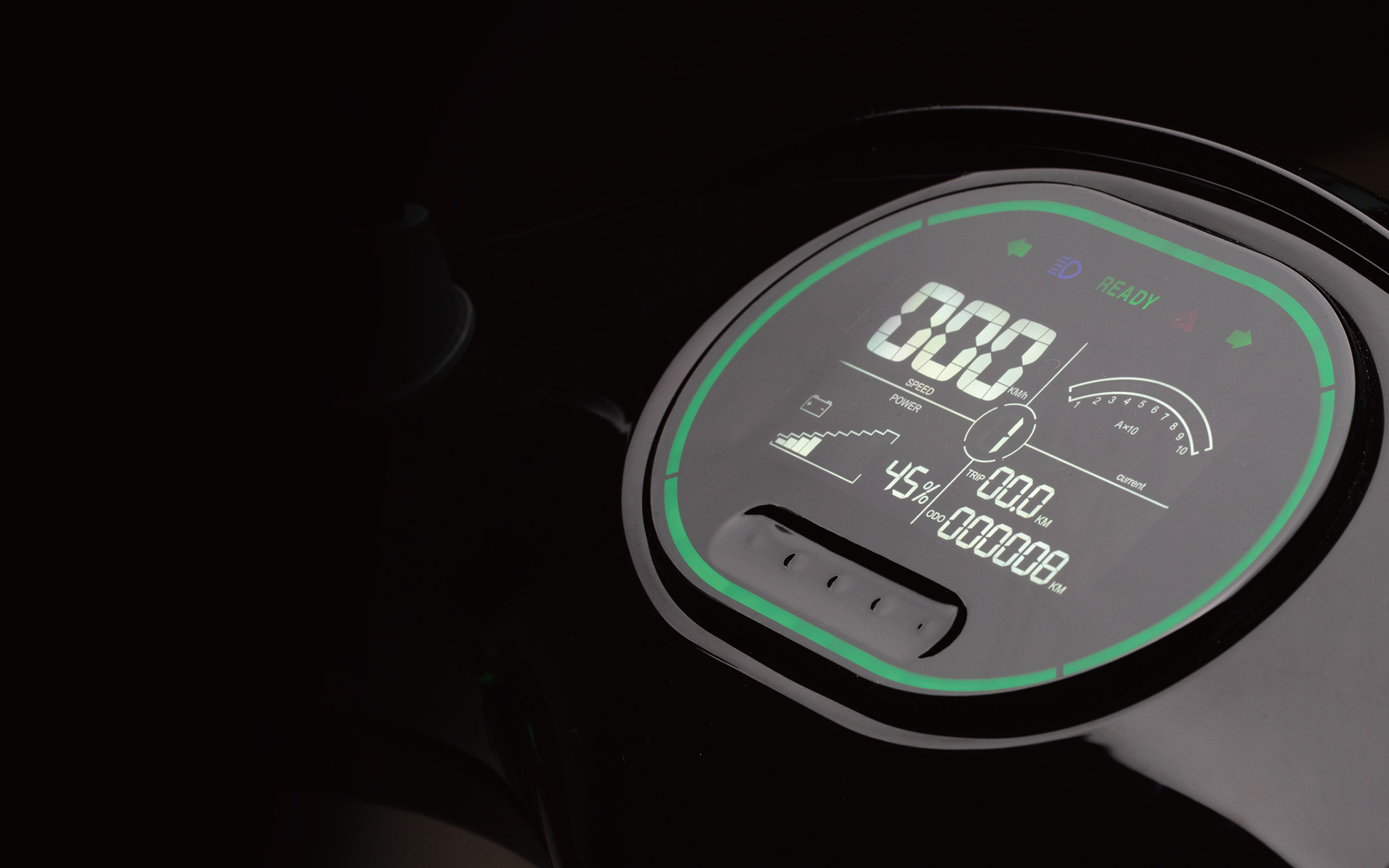 Everything always in view
Intelligent display
The HORWIN EK3 can be started with a swipe of the finger across the display. The display shows all the necessary information such as speed, power, battery status and range that is important while riding.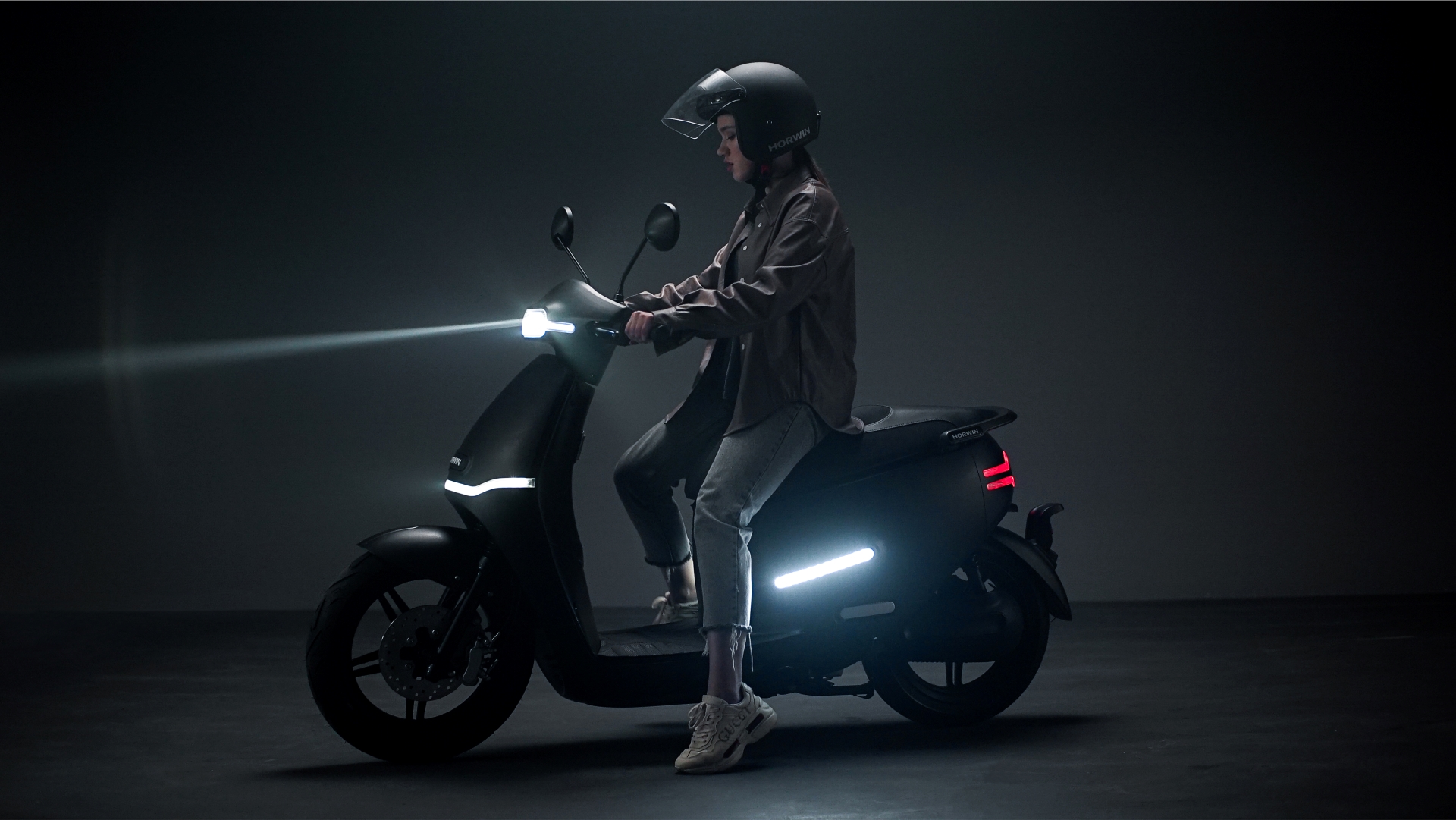 Turning night into day
LEDs as far as the eye can see
The automatic daytime running lights improve safety – especially on rainy and foggy days. An automatic switch-off delay when the light is switched off illuminates the path to the garage or entrance door when the vehicle is left.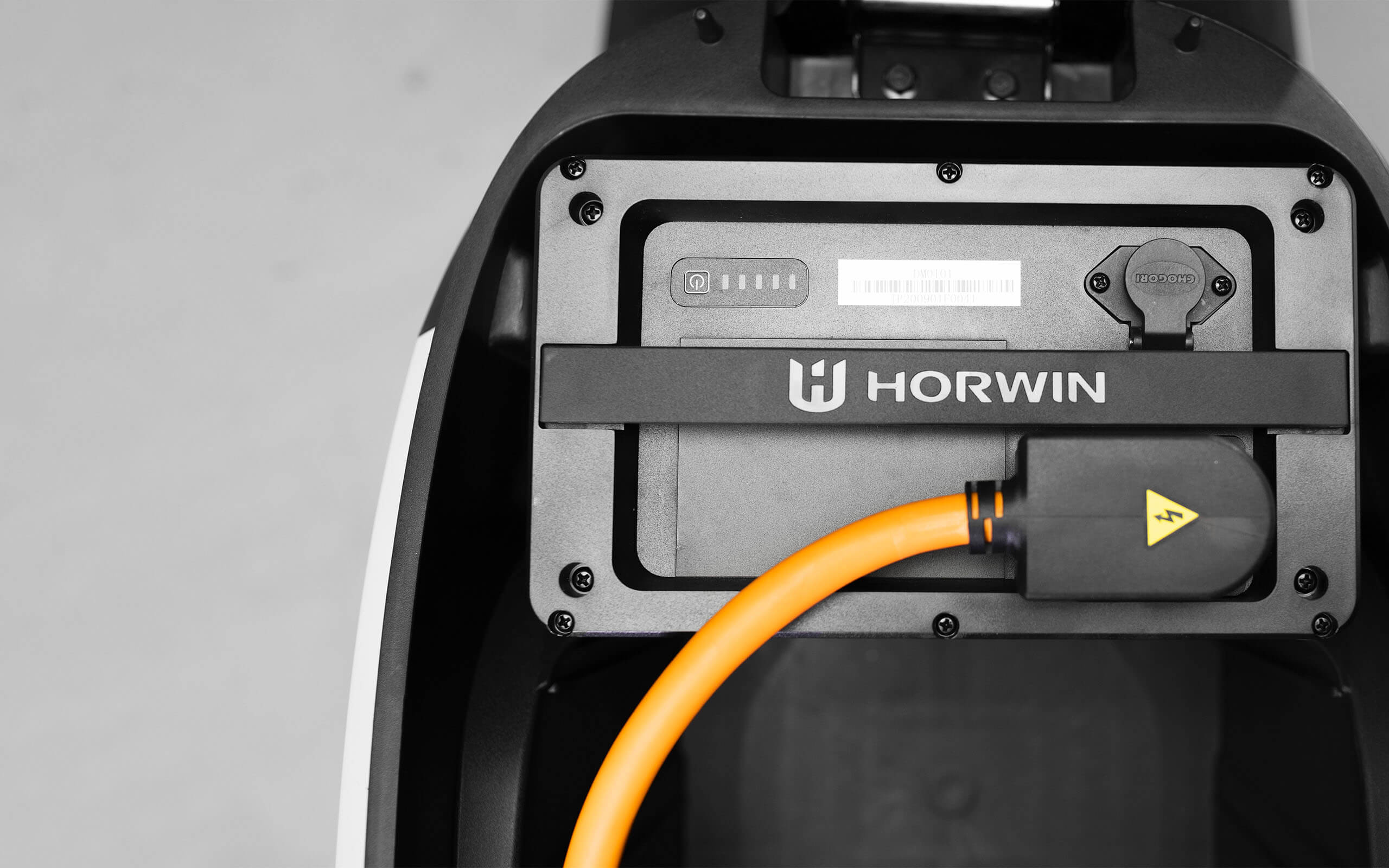 Safe and powerful
Battery
The SOC monitoring system and the modern battery management system can prevent malfunctions prevent. Among other things, they protect against overcharging, discharging and overvoltage, short circuit and monitor the temperature of the batteries.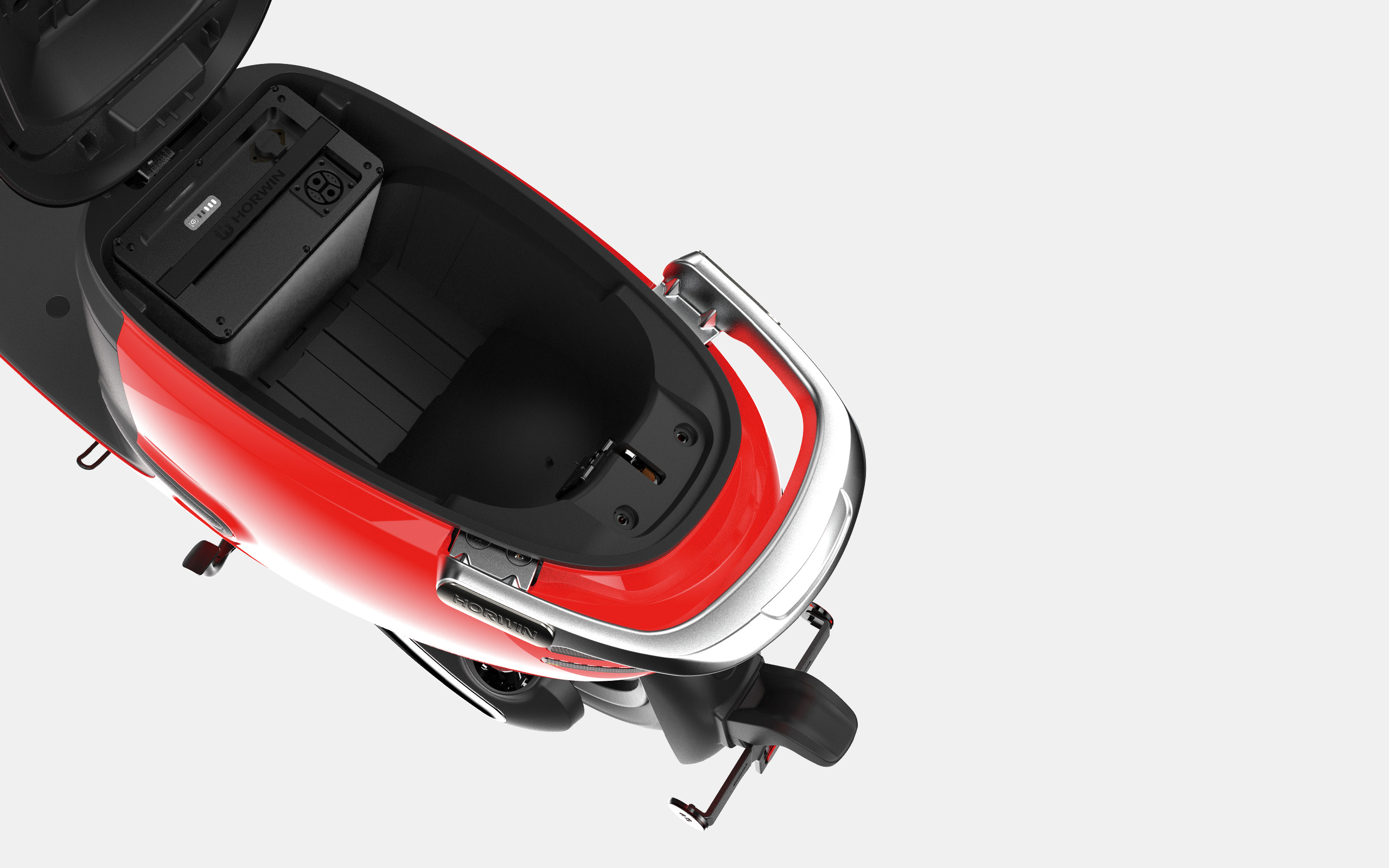 Space for up to 2 batteries at the same time
Still. More. Range.
The HORWIN EK offers plenty of storage space under the seat. With the optional second battery, which is also fitted under the "hood", the range can be significantly increased. Alternatively, a helmet also fits in the spacious storage compartment.
Safety first
A
braking system of class
Front and rear disc brakes on all HORWIN EK models shorten the braking distance. The CBS braking system specially developed for the EK3 also ensures even safer braking, even at high speeds.
Highly efficient and economical
Whisper quiet on the road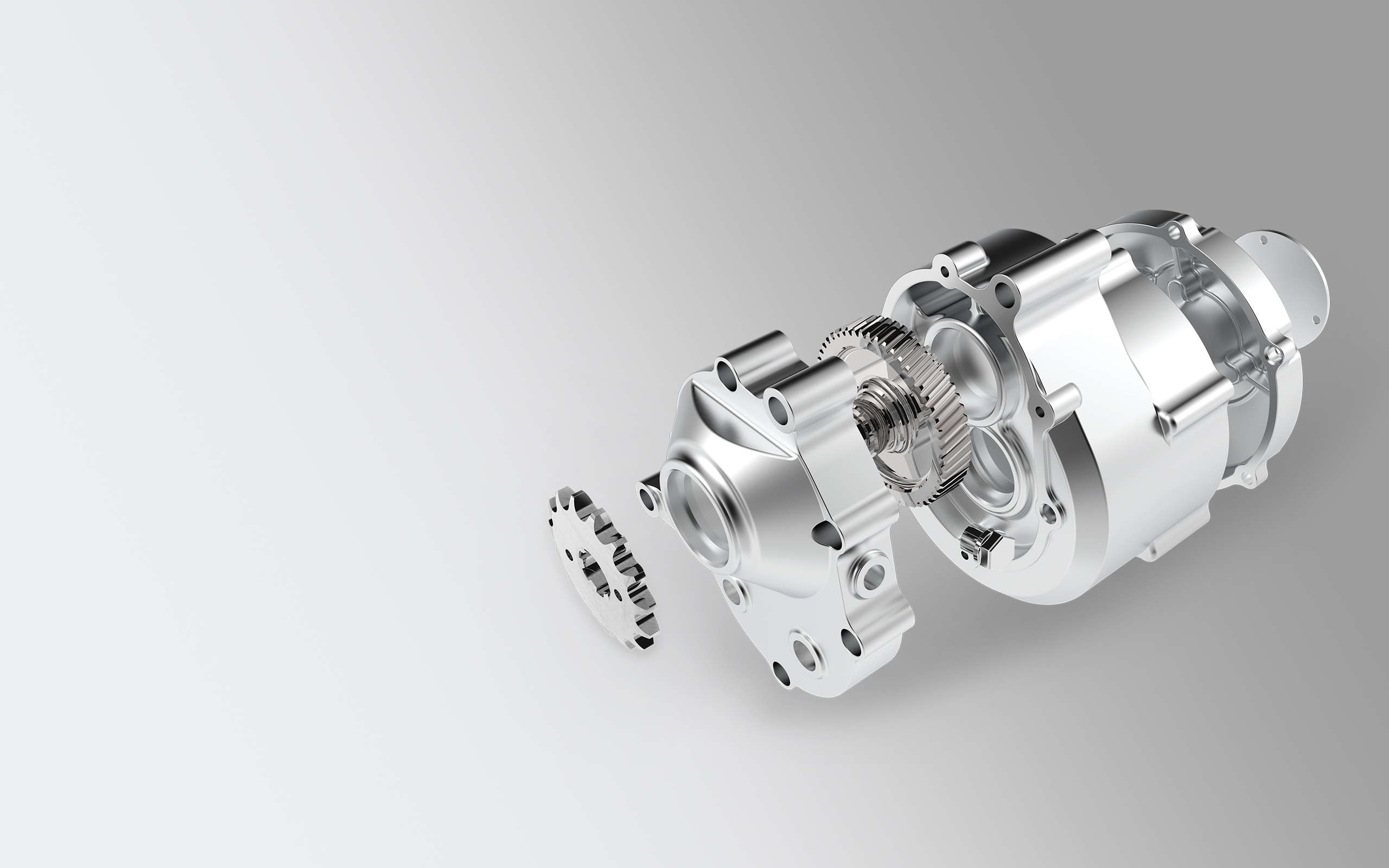 Full speed ahead
High-performance drive in the EK3
The center motor developed by HORWIN achieves an output of 6.2 kW at a speed of of up to 95 km/h. The EK3 accelerates to 60 km/h within six seconds, with the full torque is available immediately when the throttle grip is operated.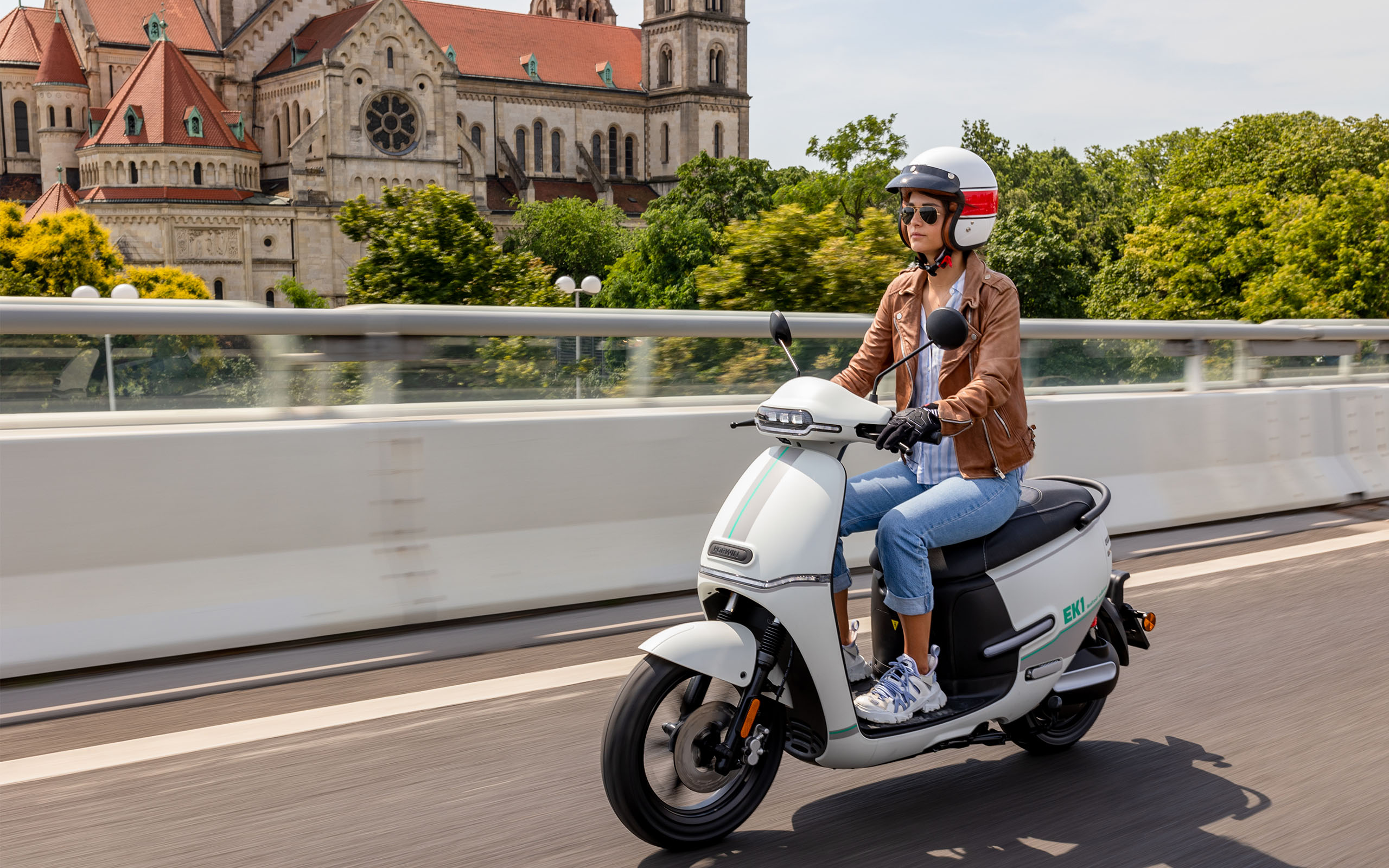 A good driving experience makes all the difference
Comfort & ergonomics
The large footboard and wide seat are ergonomically designed. The upper body and legs are relaxed at any height. The HORWIN EK offers a comfortable driving experience – from A to B.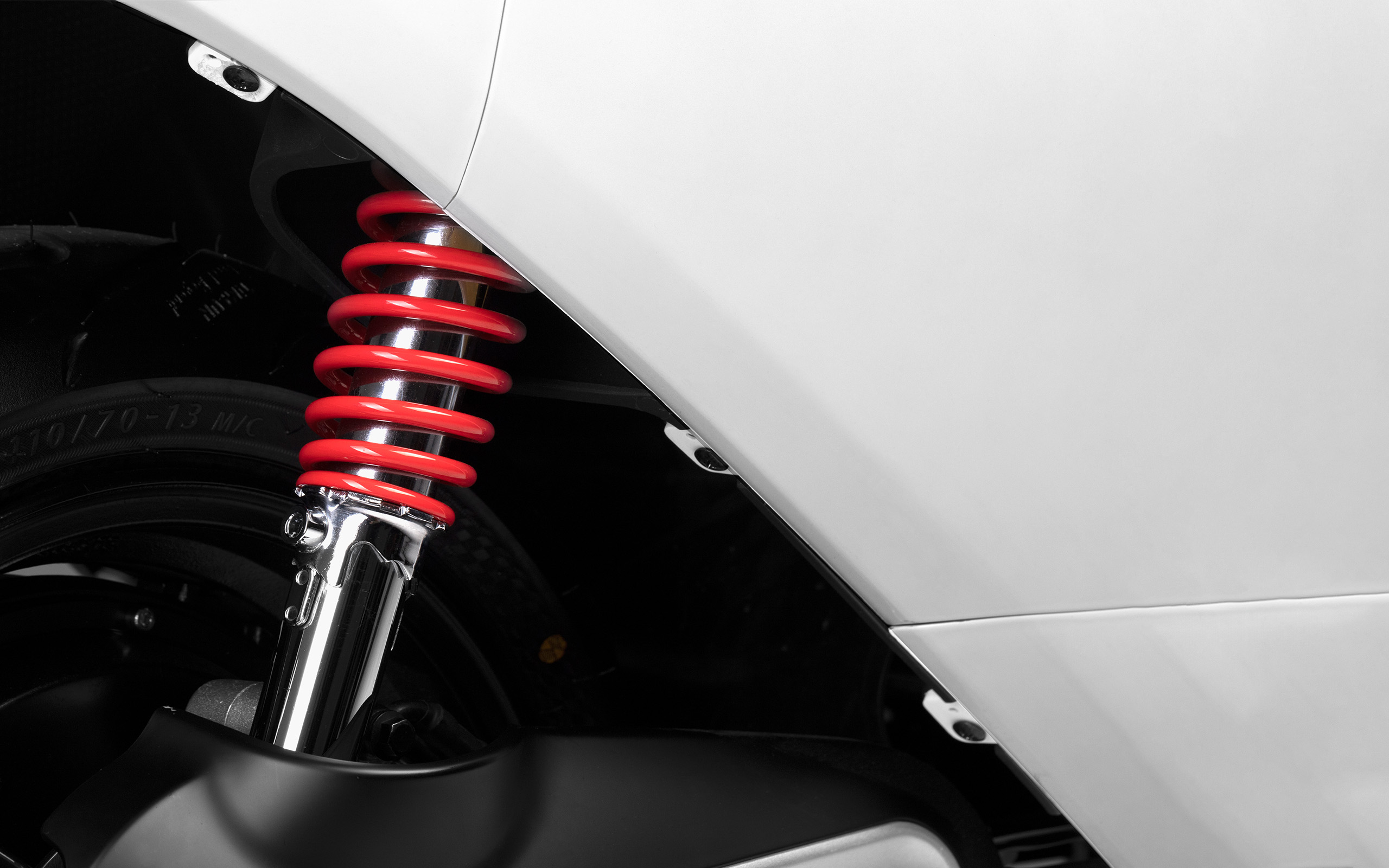 Made for every road
Comfort suspension
The double hydraulic front and rear shock absorbers provide the driver with an excellent and safe driving experience, regardless of the road conditions.
It should be that simple.
Further highlights
Front storage compartment with USB charging socket

Cruise control system

Remote control
Field-oriented vector control (FOC)
Light switch-off delay

3 driving modes: Eco, Plus, Sport

LCD display
Colors EK1 and EK1 Light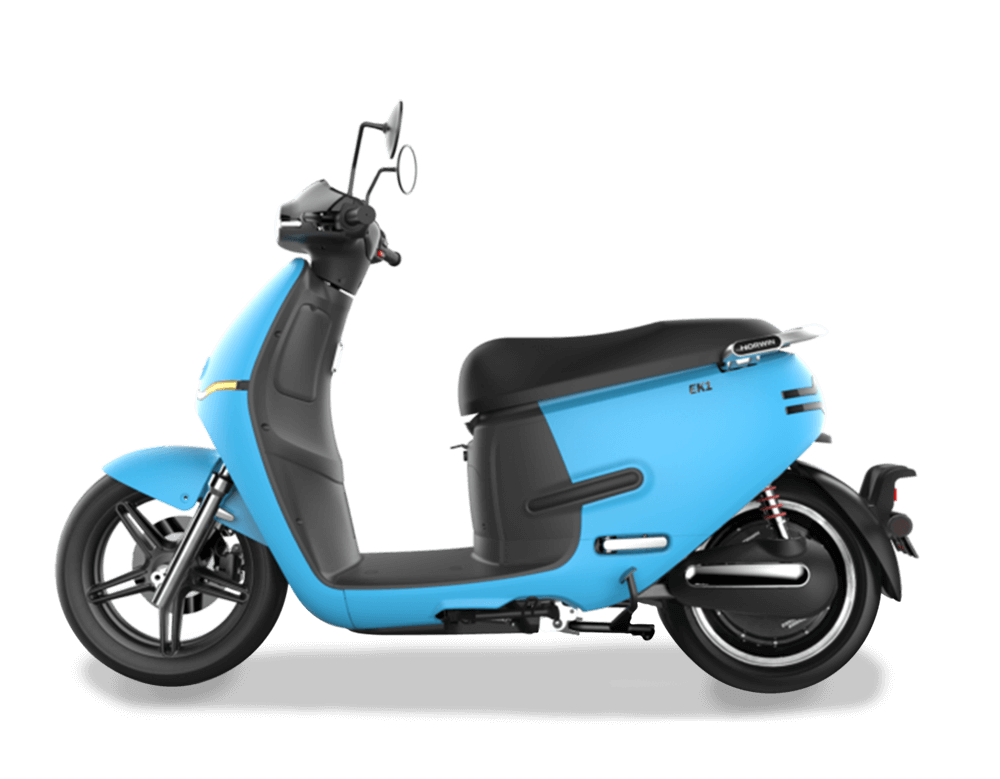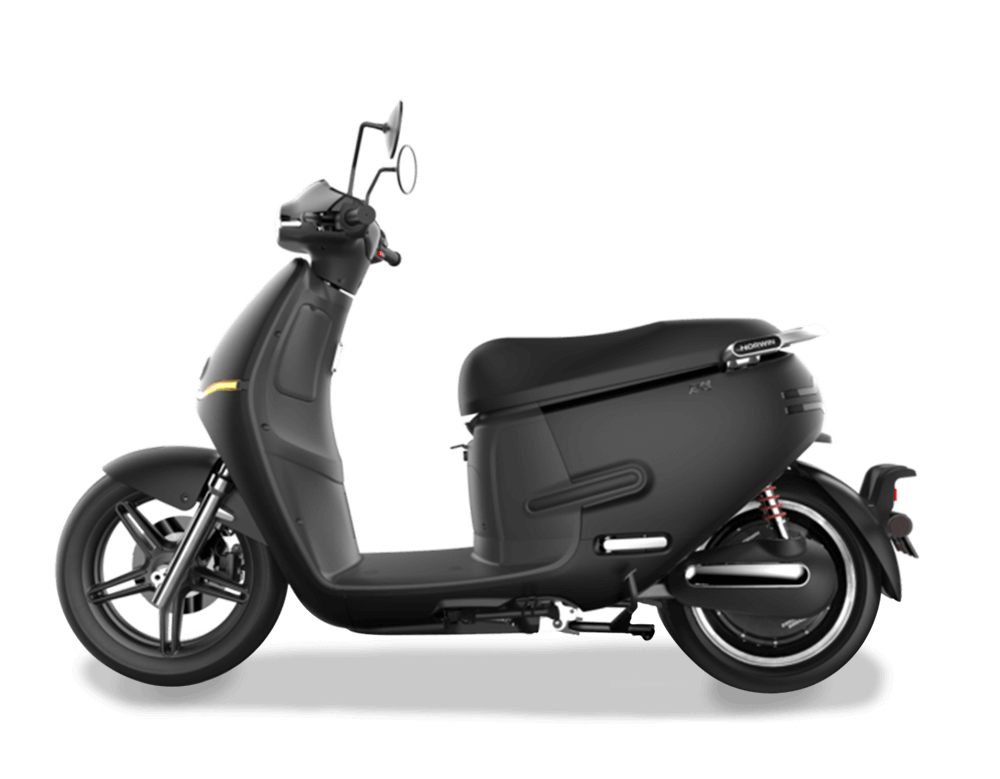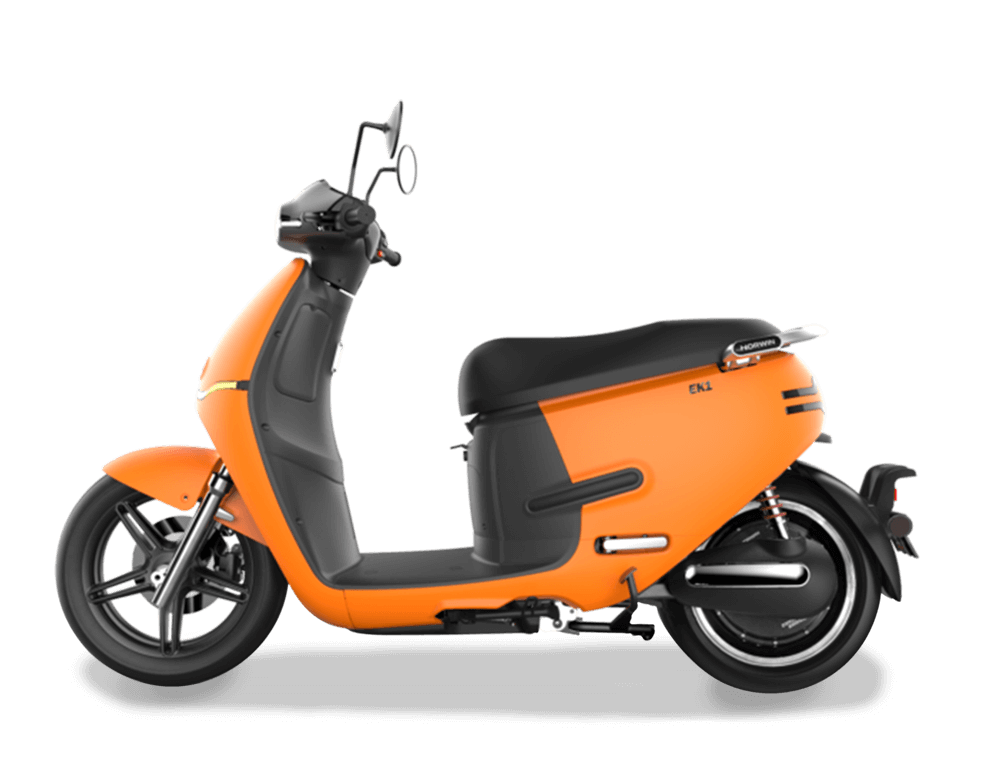 Colors EK3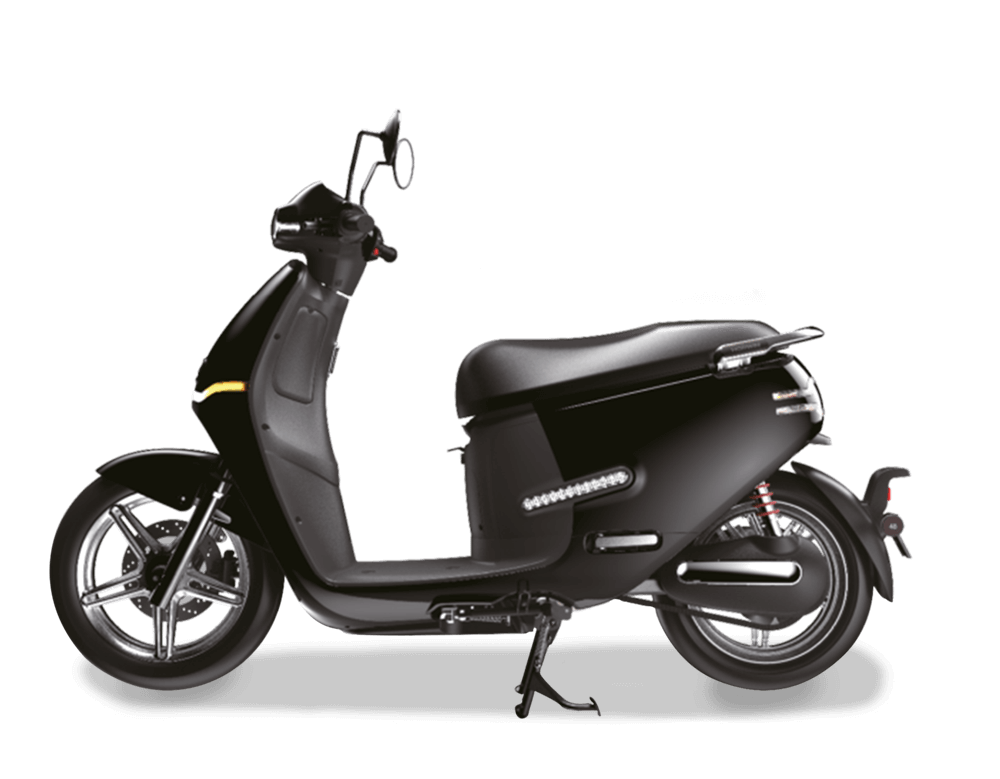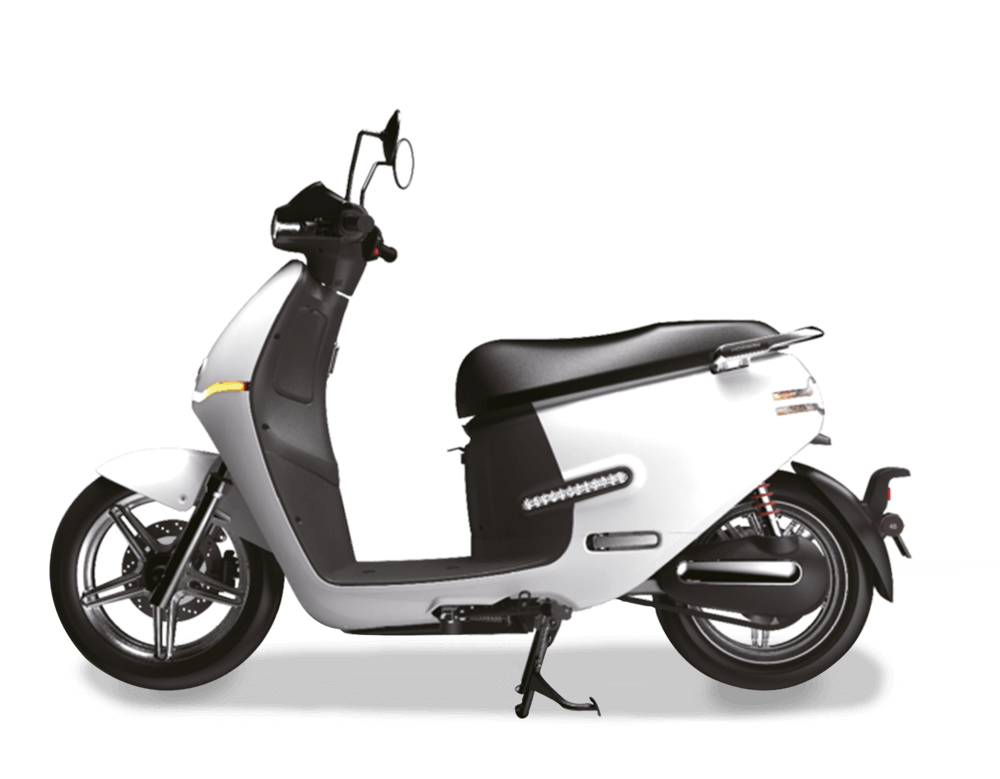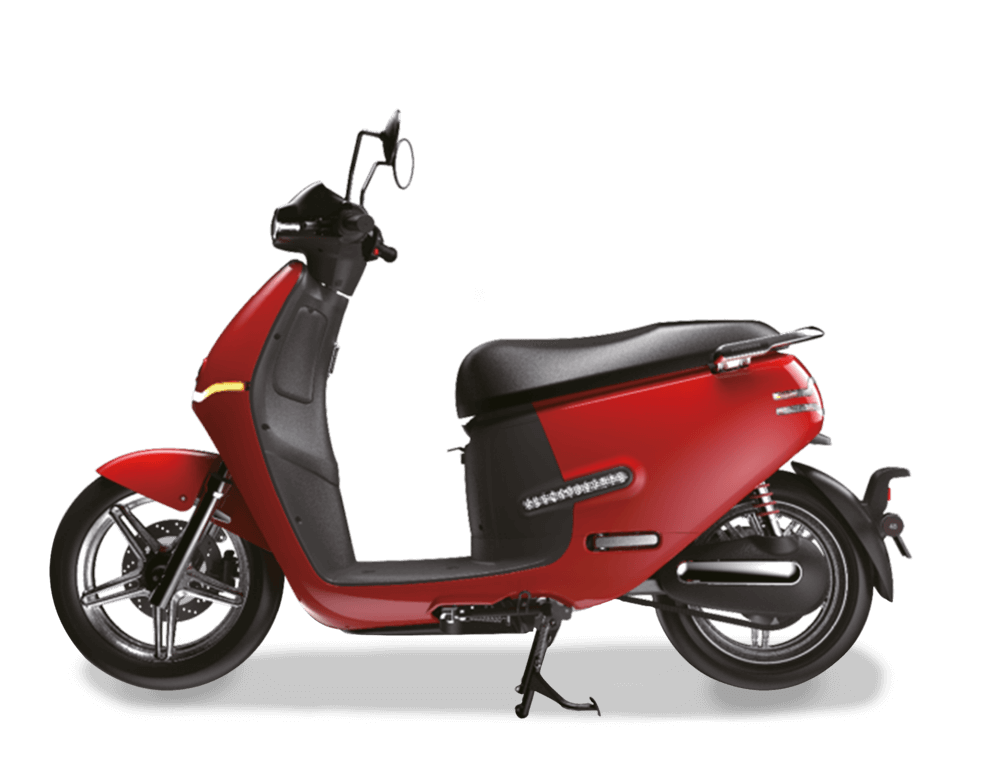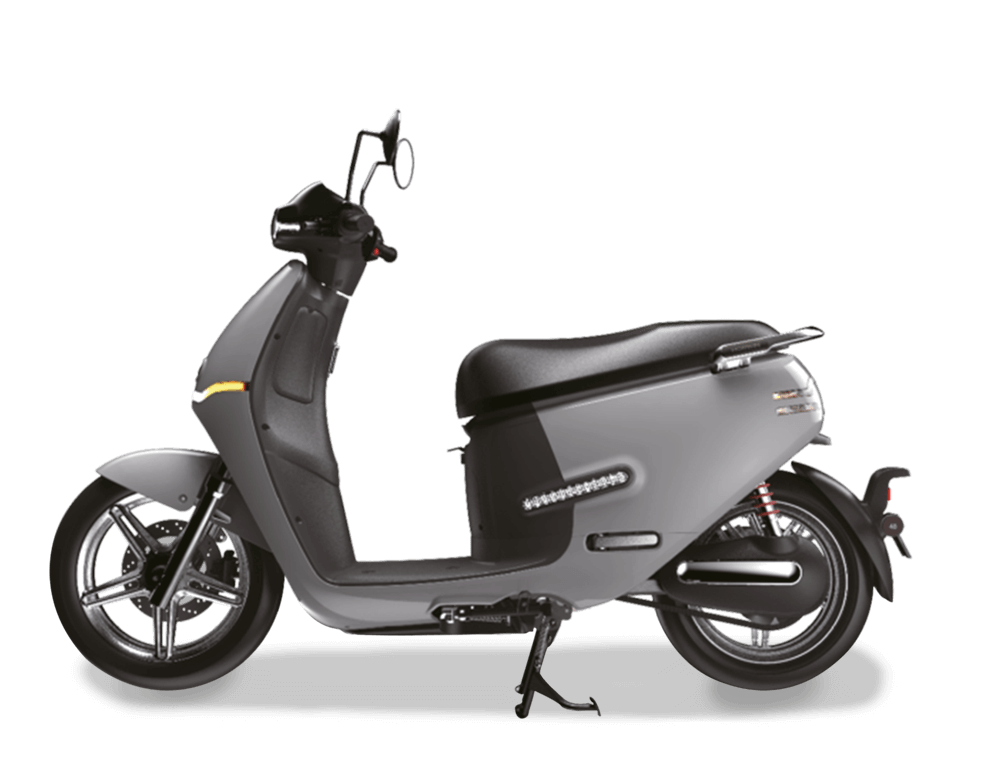 Technical data
| Technical data | EK1 | EK1 Light | EK3 |
| --- | --- | --- | --- |
| Motor type | Hub motor | Hub motor | Center Motor |
| Energy management | FOC control | FOC control | FOC control |
| Battery | 72 V, 36 Ah / 72 V, 26 Ah (optional with second battery) | 72 V, 36 Ah / 72 V, 26 Ah (optional with second battery) | 72 V, 36 Ah (optional with second battery) |
| Dimensions | | | |
| Length | 1900 mm | 1900 mm | 1900 mm |
| Wide | 690 mm | 690 mm | 690 mm |
| Height | 1130 mm | 1130 mm | 1130 mm |
| Seat height | 780 mm | 780 mm | 780 mm |
| Front tire | 100 / 80-14 | 100 / 80-14 | 100 / 80-14 |
| Rear tire | 110 / 70-13 | 110 / 70-13 | 110 / 70-13 |
| Wheelbase | 1320 mm | 1320 mm | 1320 mm |
| min. Ground clearance | 125 mm | 125 mm | 125 mm |
| max. Permissible total weight | 281 kg | 281 kg | 284 kg |
| Empty weight without battery | 92 kg | 92 kg | 95 kg |
| Rim | Aluminum alloy | Aluminum alloy | Aluminum alloy |
| Specifications | | | |
| max. Power | 2.8 kW | 1.5 kW | 6.2 kW |
| max. Speed | 45 km/h | 25 km/h | 95 km/h |
| Brake system | Disc brake front/rear | Disc brake front/rear | CBS braking system |
| Charging time (8 A) | 36 Ah / approx. 4.5 h – 26 Ah / approx. 3.5 h | 36 Ah / approx. 4.5 h – 26 Ah / approx. 3.5 h | 36 Ah / approx. 4.5 h |
| max. Range | 36 Ah / 166 km – 26 Ah / 138 km (with 2 batteries / EEC test) | 36 Ah / 182 km – 26 Ah / 170 km (with 2 batteries / EEC test) | 150 km (with 2 batteries / EEC test) |