HORWIN Delivery Scooter (DS) Series
Universal, robust and ready for use at any time.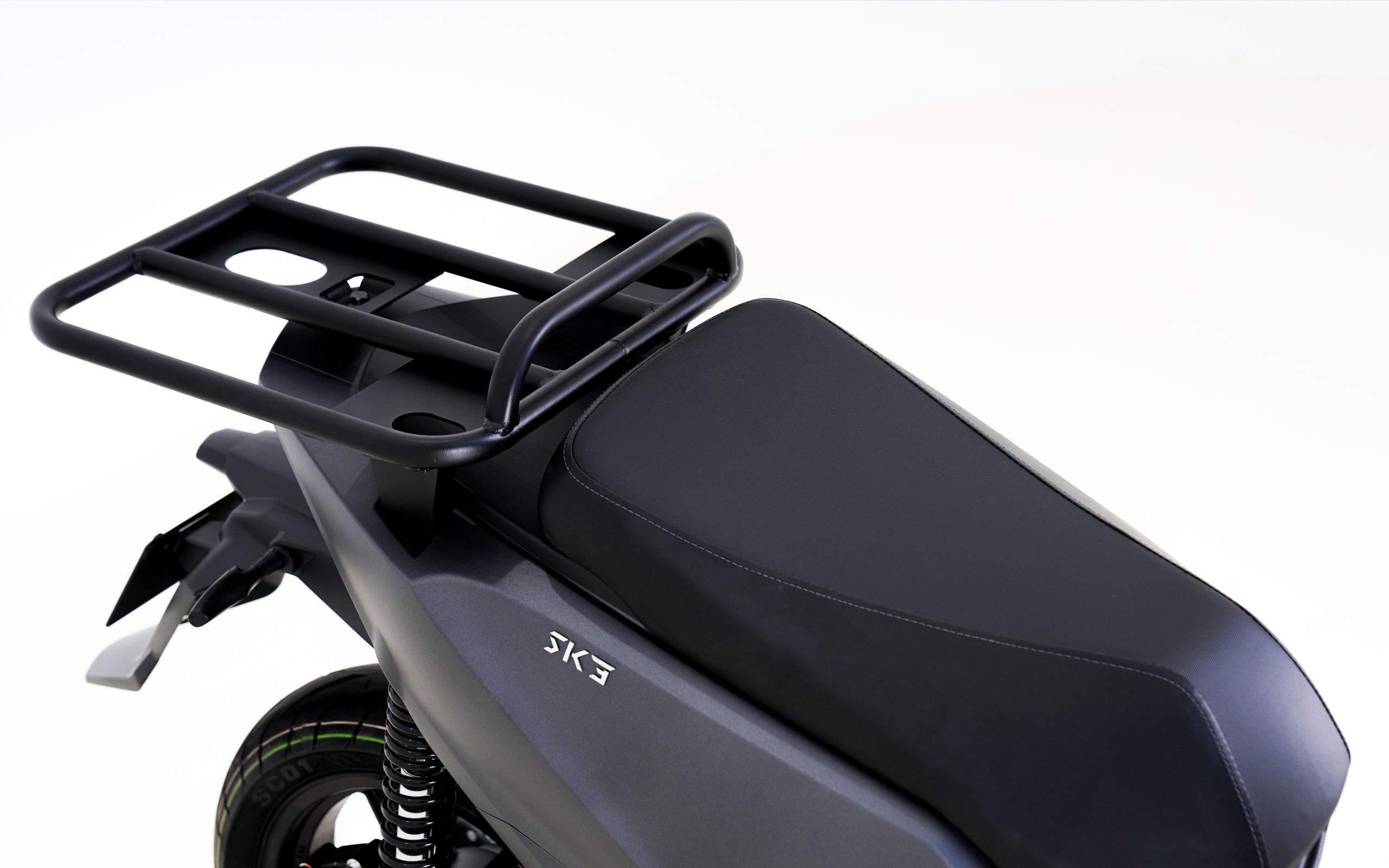 DS = Delivery Scooter
The perfect foundation
The HORWIN DS Series is based on the HORWIN EK and SK model series. The bench seat is shortened slightly – from a two-seater to a single-seater – to create space for valuable cargo. In addition, the frame is reinforced to guarantee additional robustness and stability of the vehicle.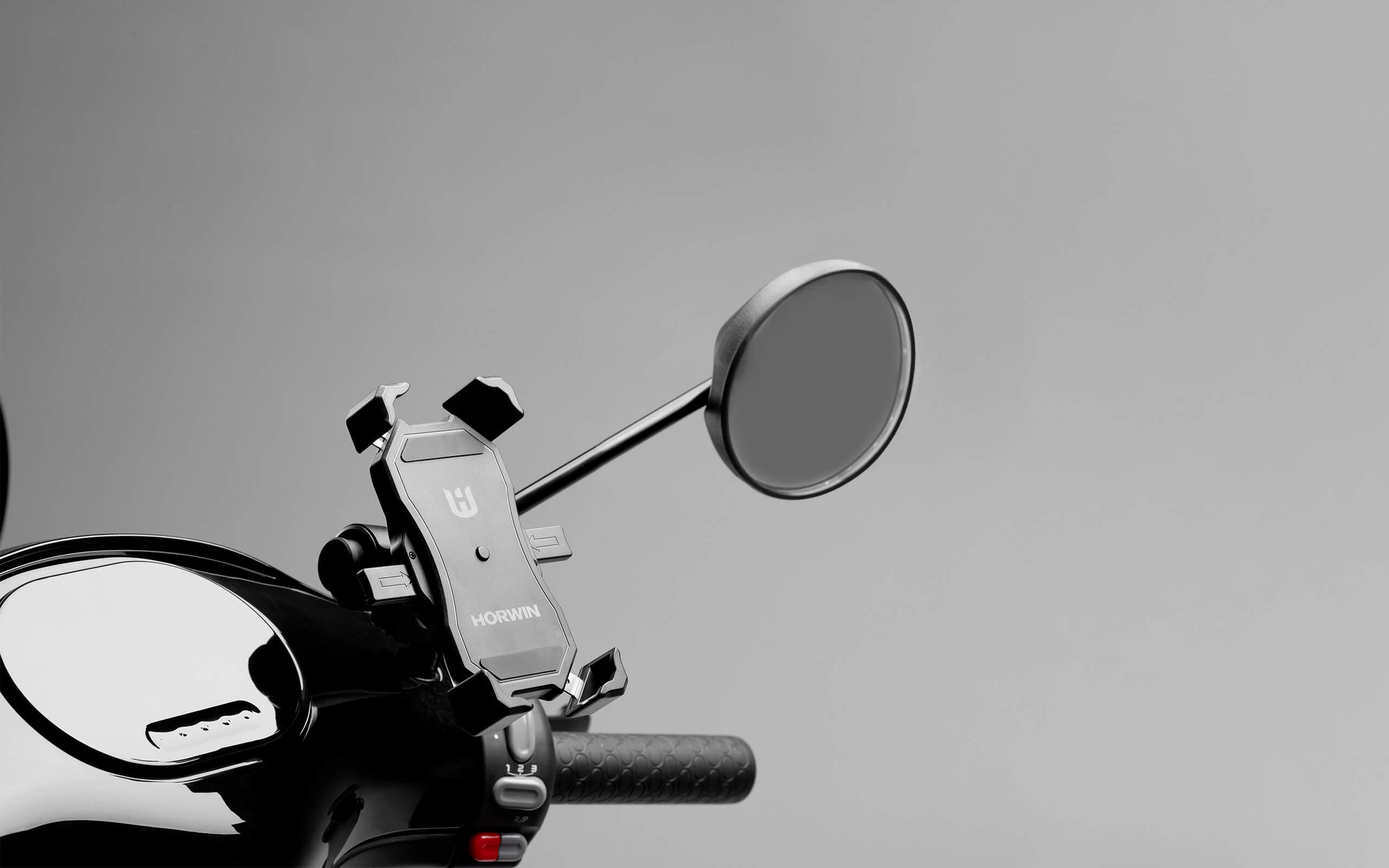 Everything in view
Universal smartphone holder
The smartphone is always with you and always in view thanks to the robust holder. Because time also means money, the mechanism for attaching and removing the smartphone is kept as simple as possible.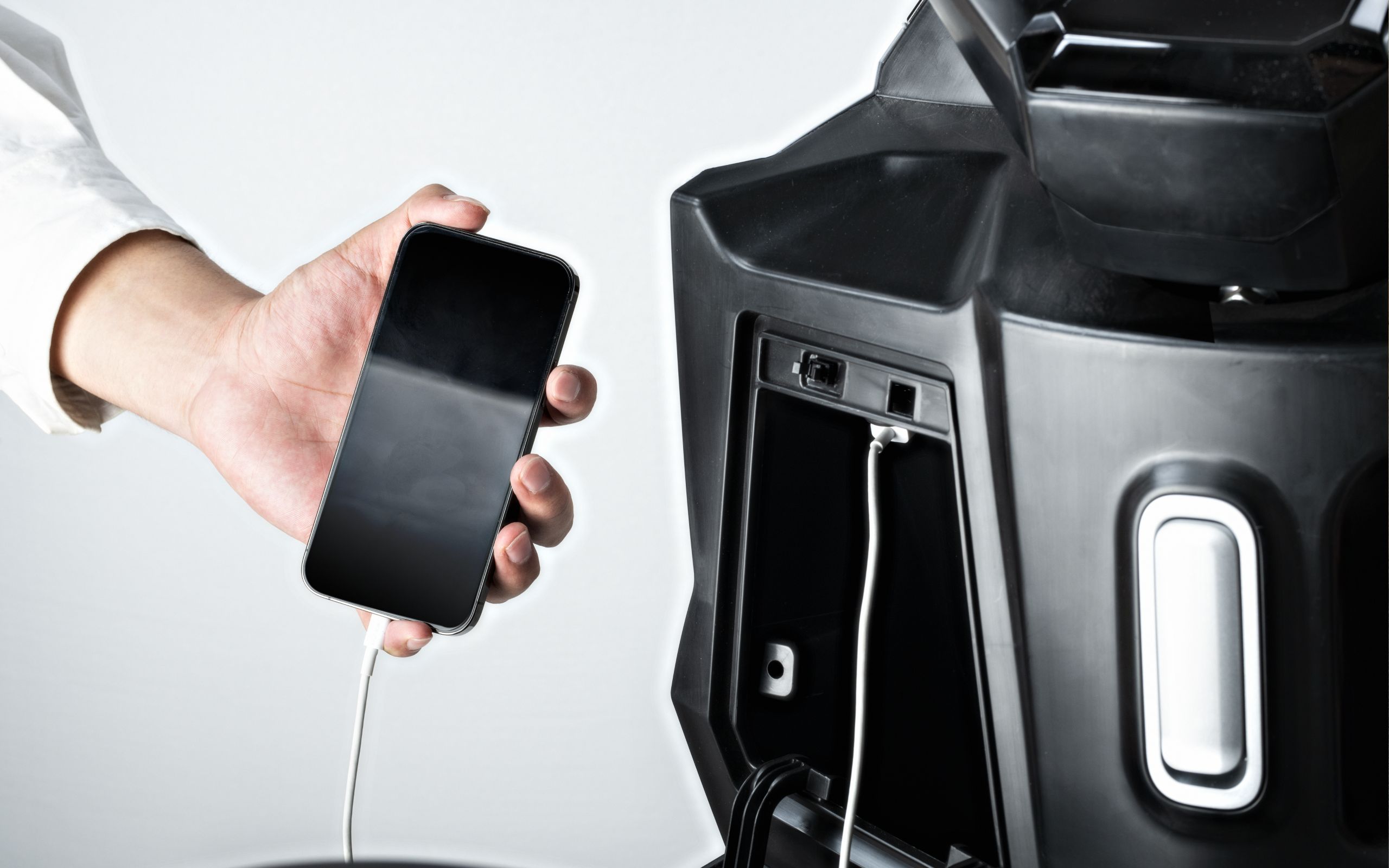 Power supply for the daily companion
Charging made easy
Powerbanks are a thing of the past. Thanks to the integrated USB-A charging socket in the storage compartment, the smartphone can be conveniently charged without having to compromise on range.
A freighter on wheels
Robust luggage carrier
The luggage carrier is reinforced, rustproof and can carry a load of up to 40 kg. This opens up countless possibilities for mounting boxes and other transport containers with capacities of up to 200 liters.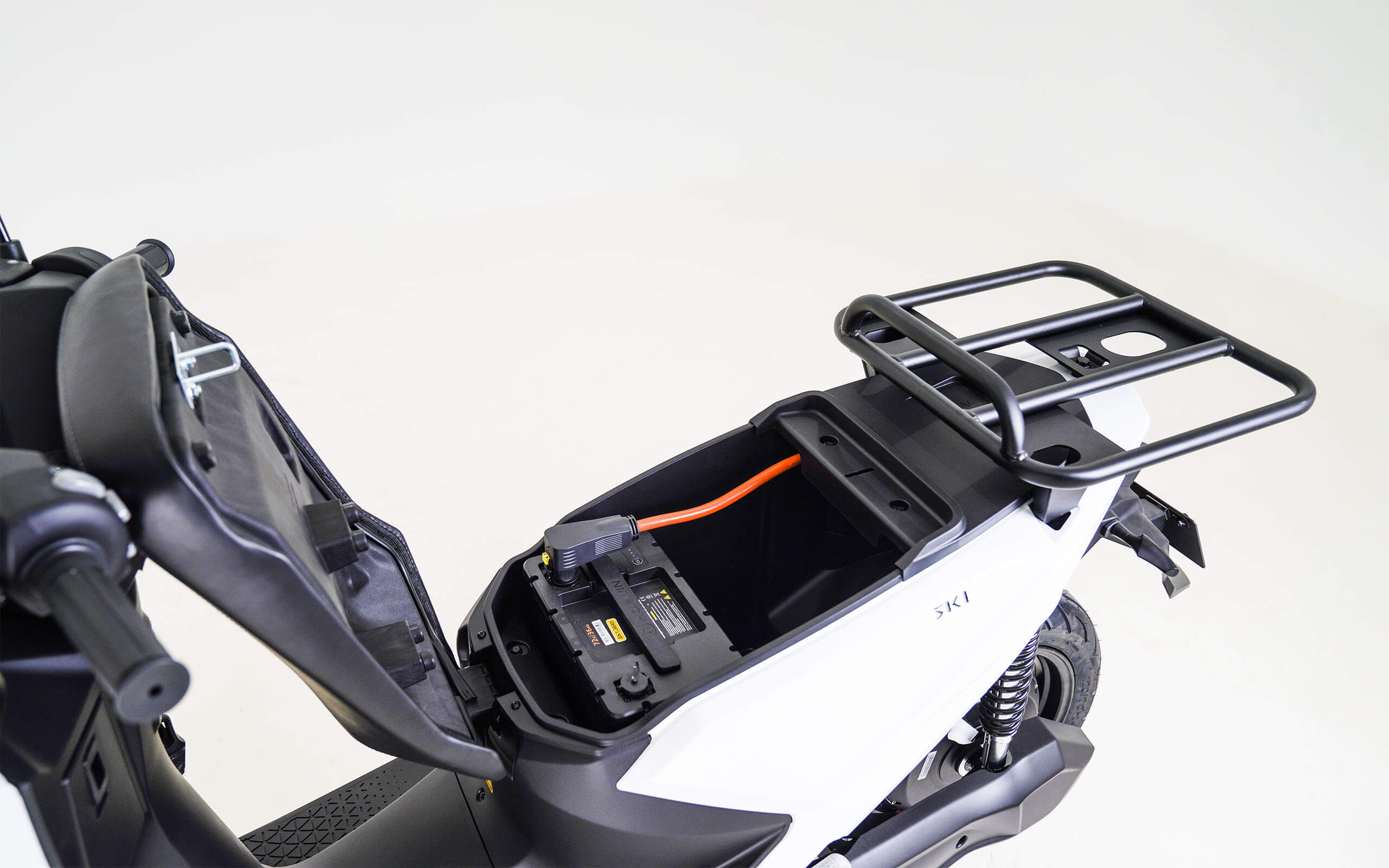 Pit stop in seconds
Non-stop deliveries
The vehicle is designed so that the battery can be removed in a matter of seconds. This means it can be replaced in an instant with another fully charged battery. This saves valuable time and maximizes the efficiency of a HORWIN electric scooter.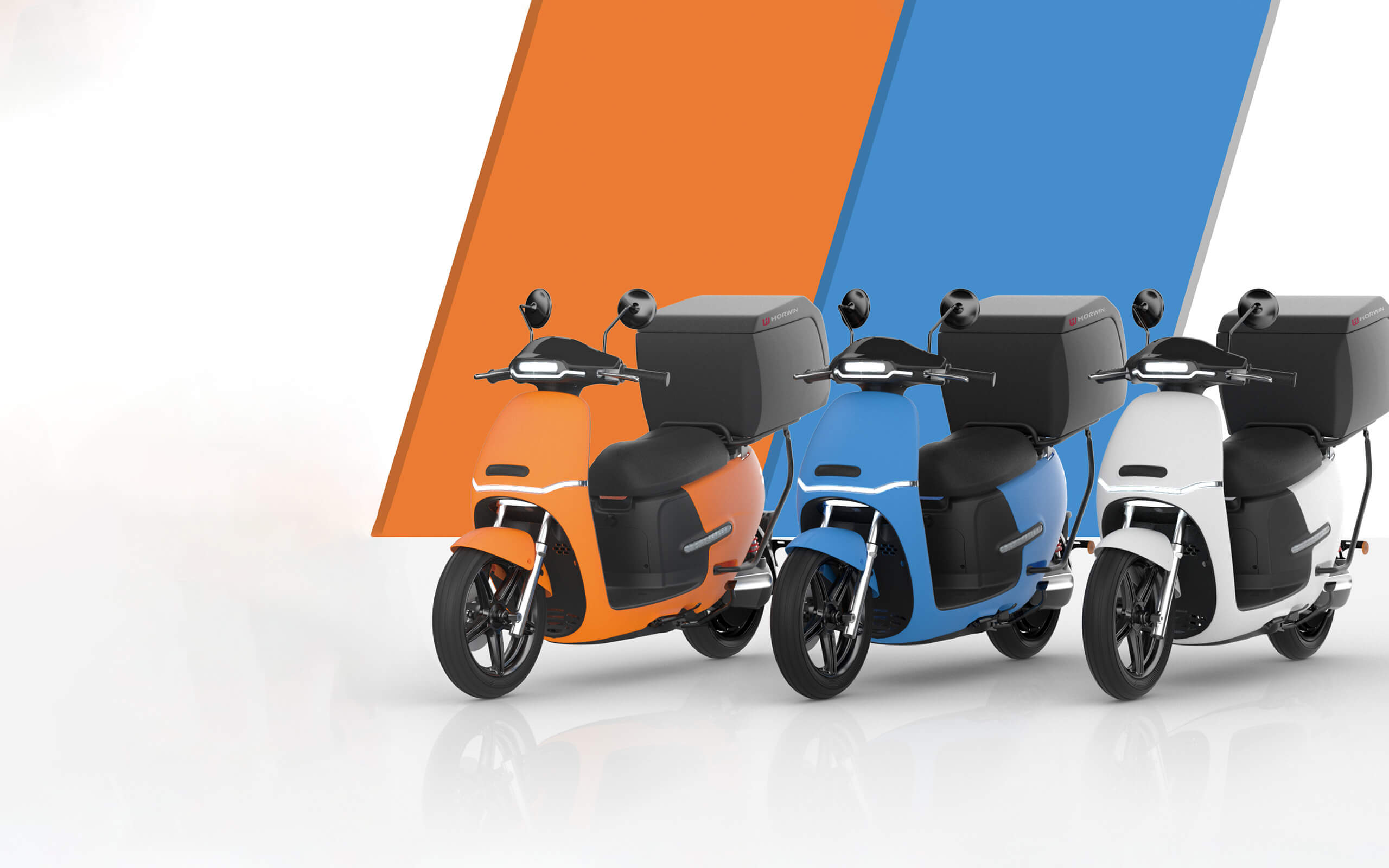 Safe transport
Delivery boxes
Delivery boxes allow goods to be transported to be stored safely and securely. They protect the delivery from weather influences such as rain or wind and are available as an option.
It should be that simple.
Colors EK1 DS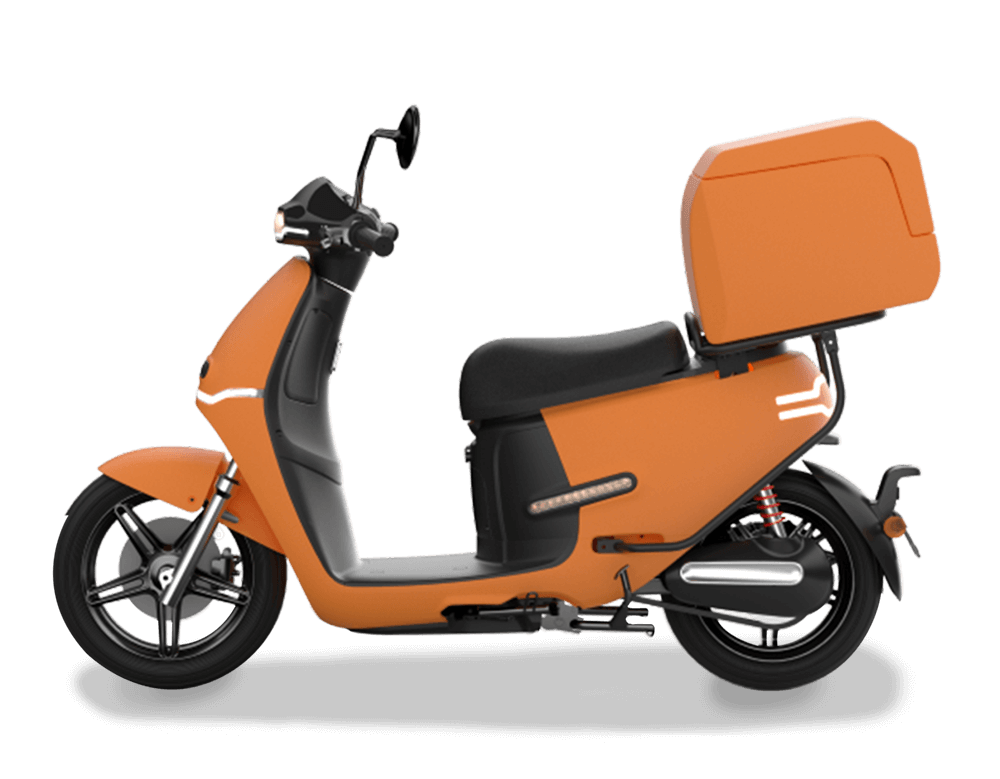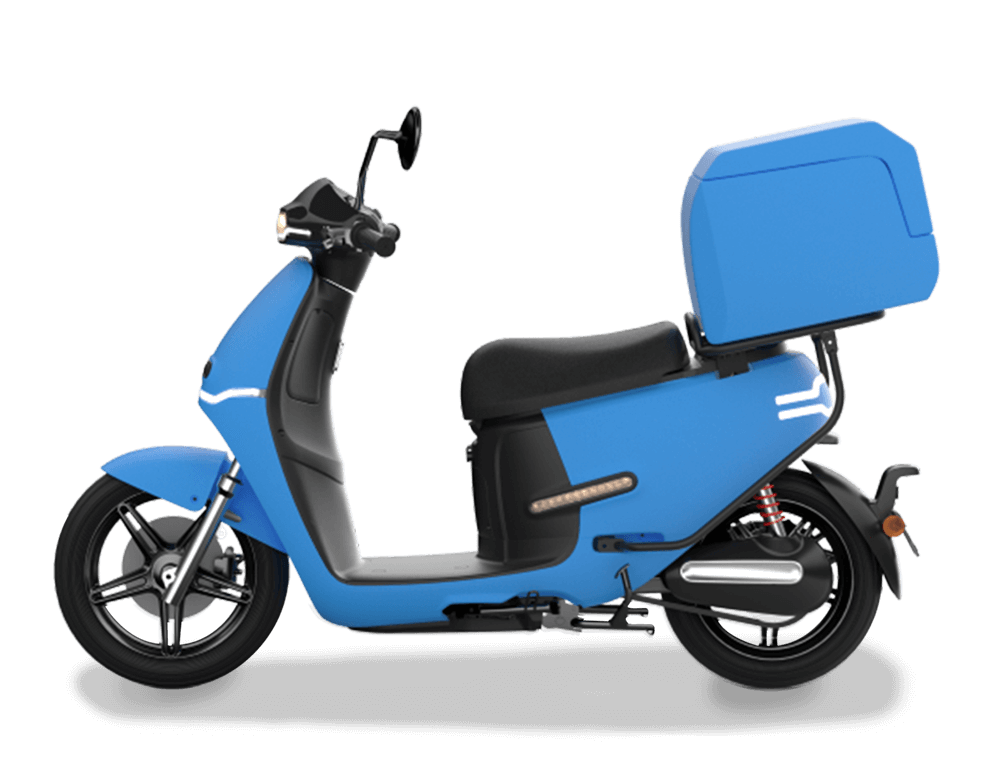 Colors EK3 DS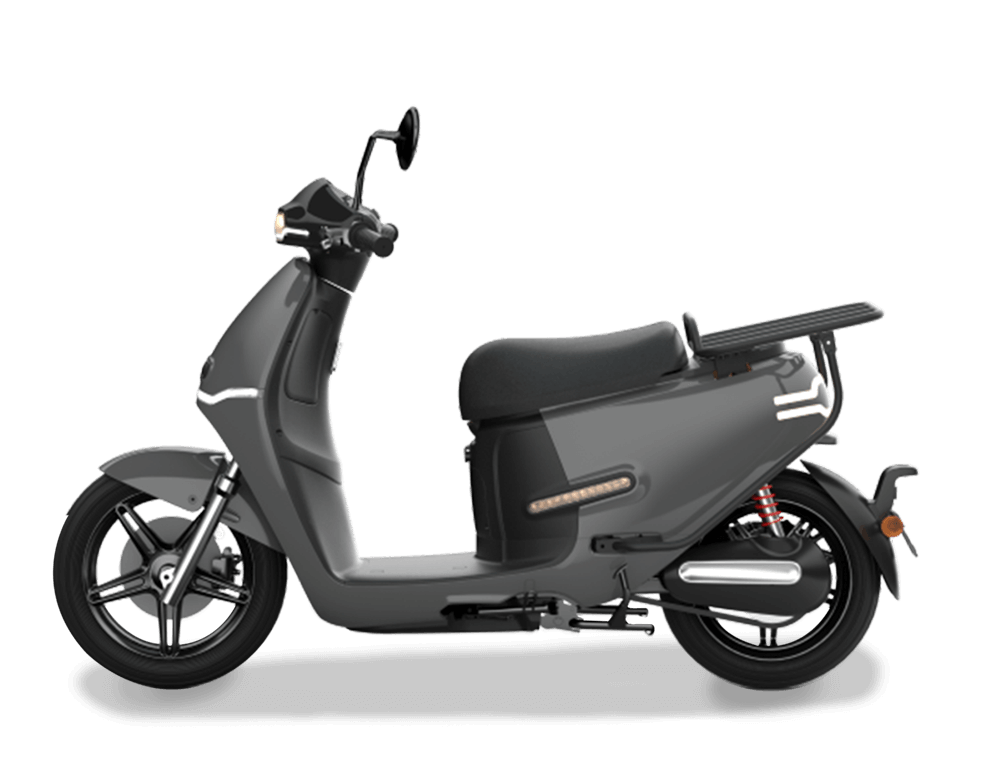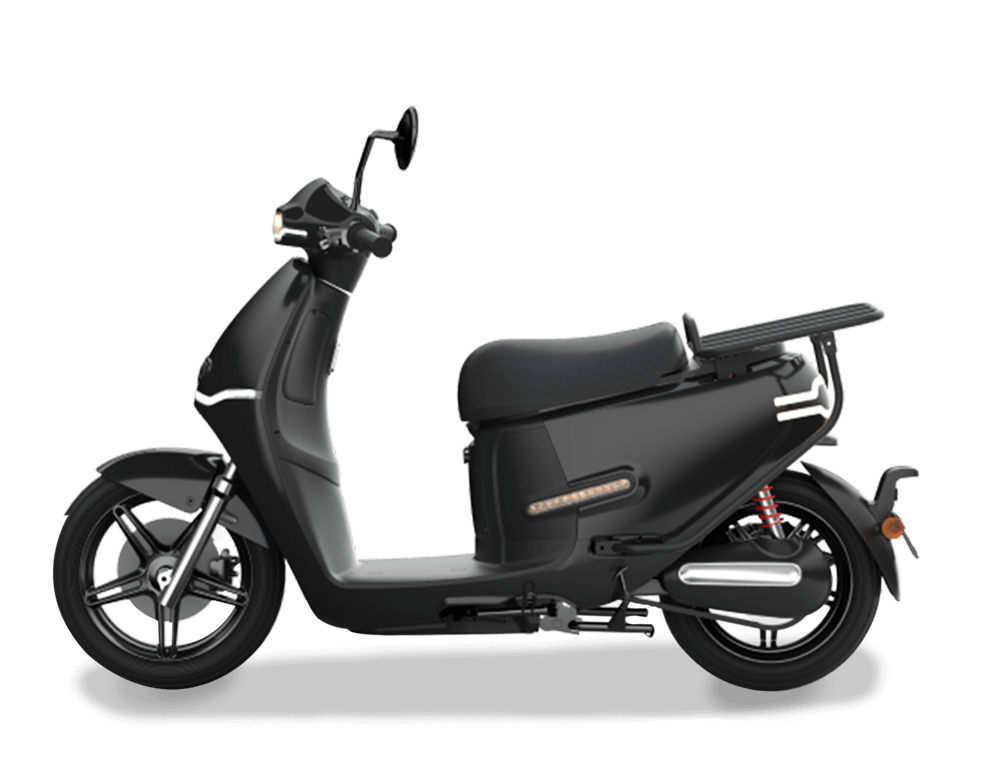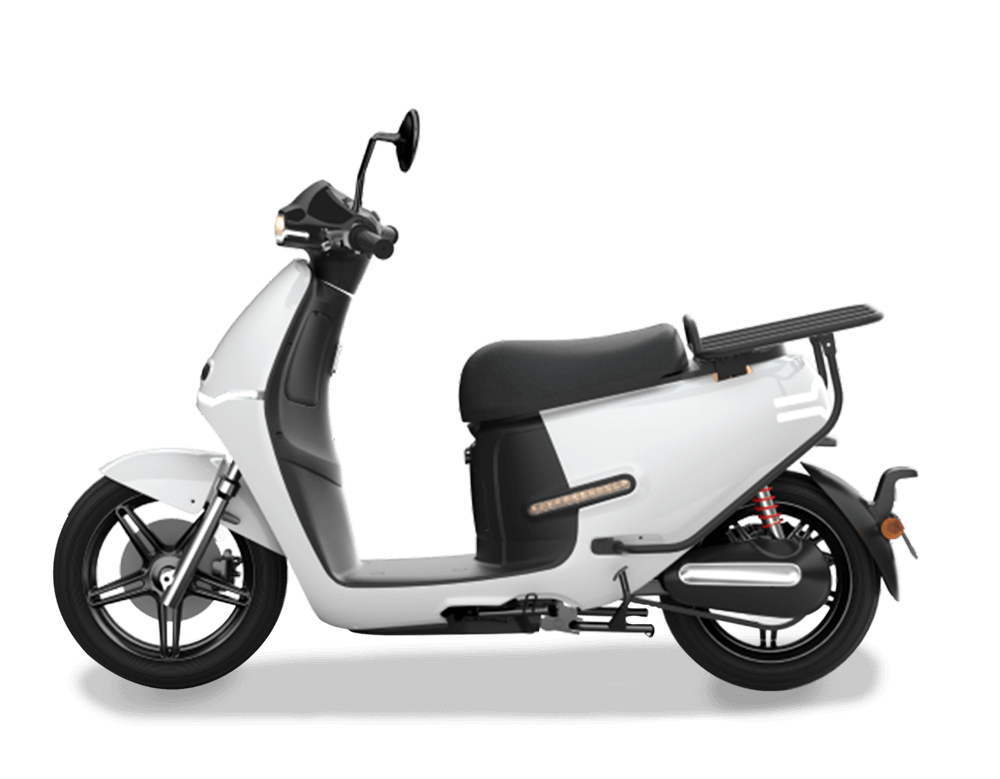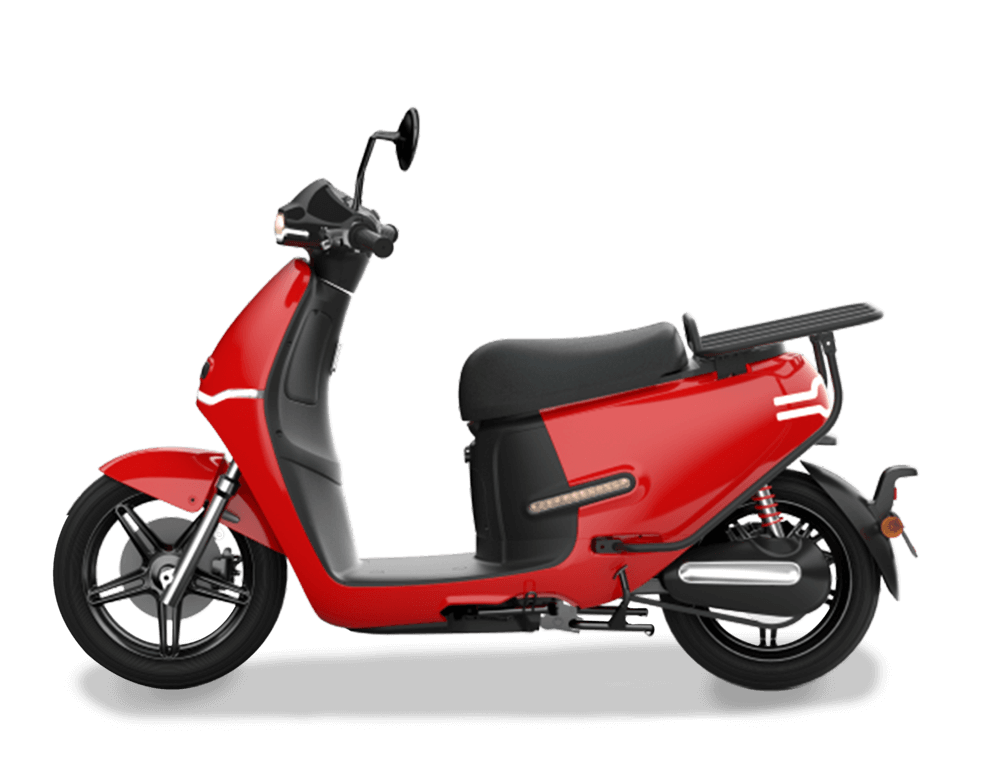 Colors SK1 DS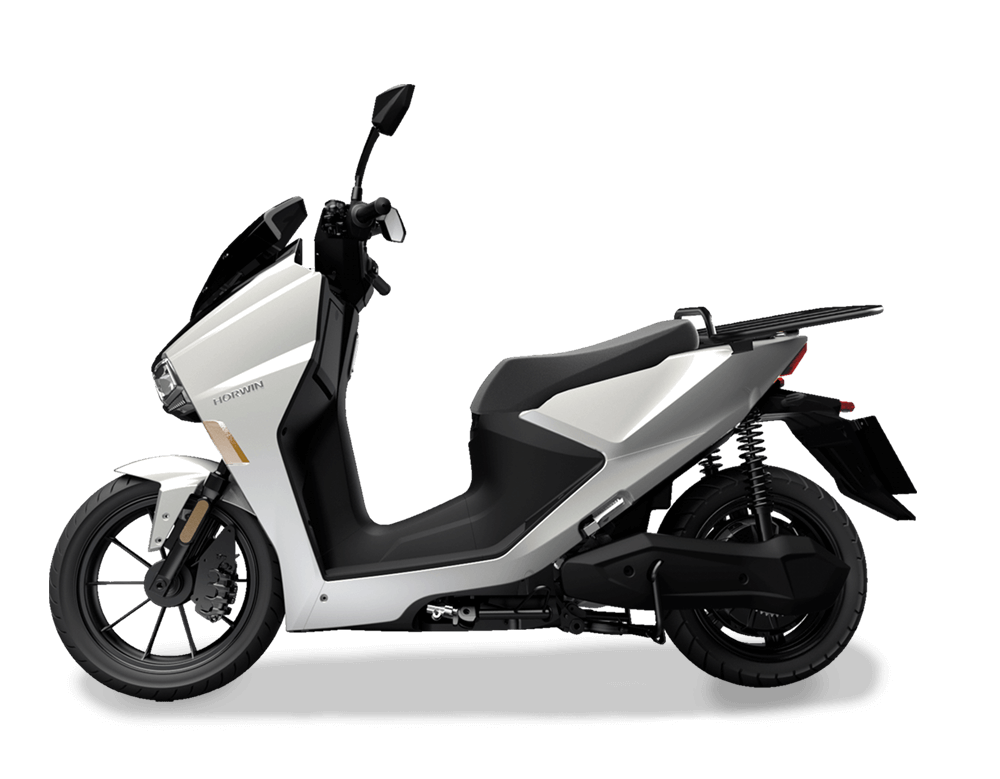 Colors SK3 DS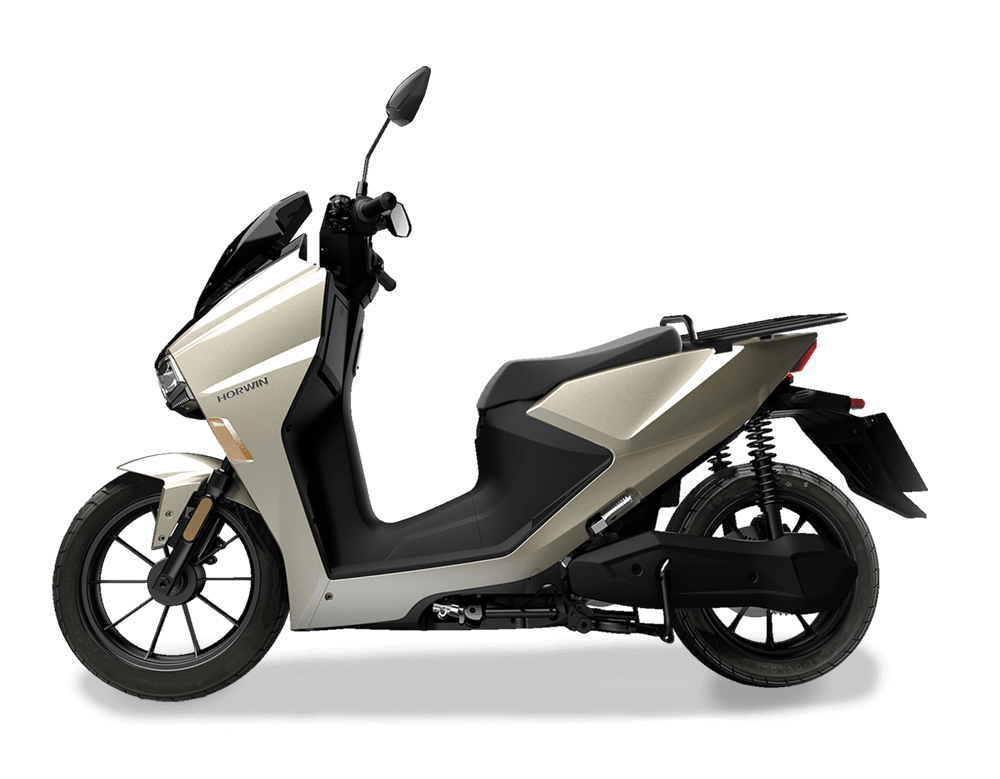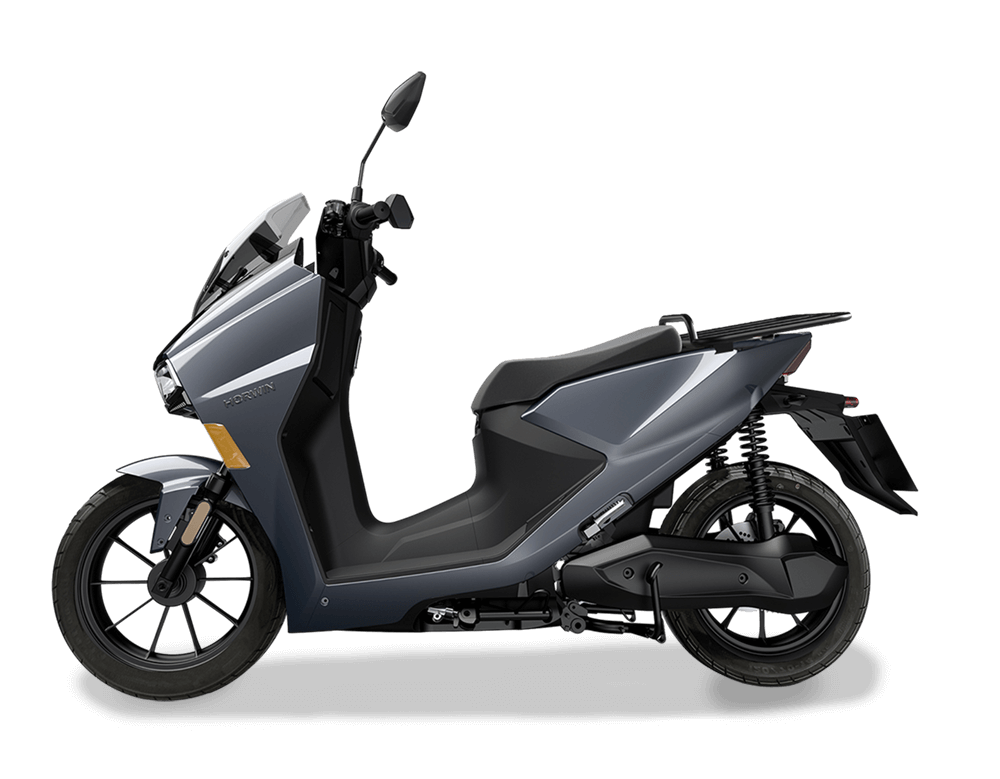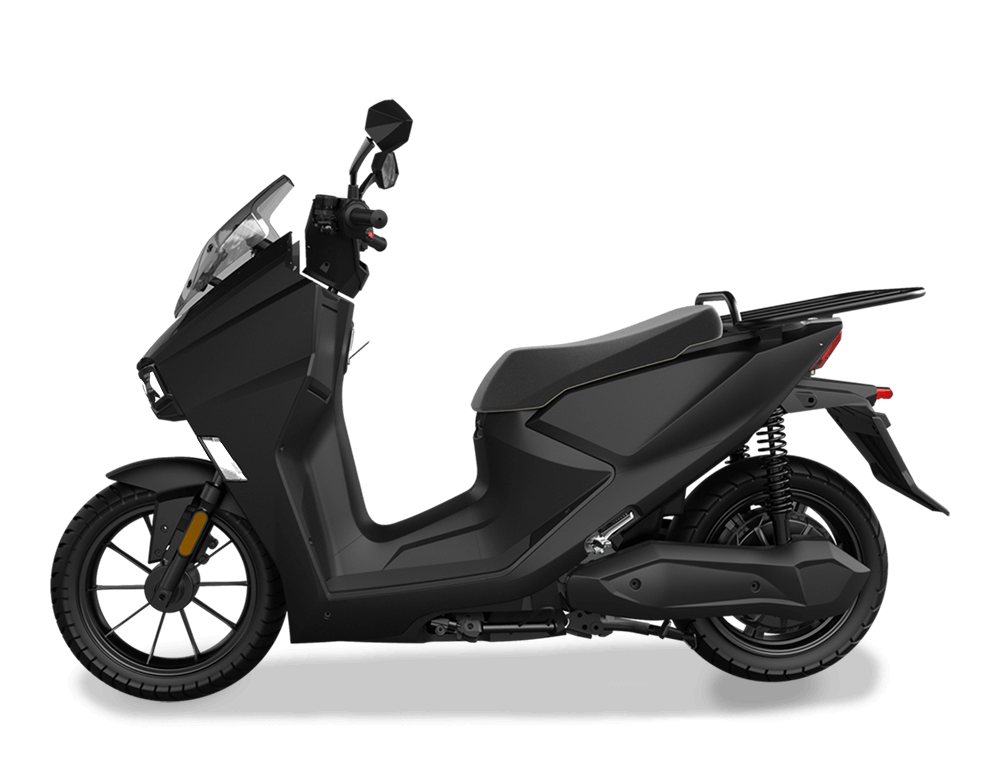 Technical data
| Technical data | EK1 DS | EK3 DS | SK1 DS | SK3 DS |
| --- | --- | --- | --- | --- |
| Motor type | Hub motor | Center Motor | Hub motor | Center motor |
| Energy management | FOC control | FOC control | FOC control | FOC control |
| Battery | 72 V, 36 Ah (optional with second battery) | 72 V, 36 Ah (optional with second battery) | 72 V, 36 Ah (optional with second battery) | 72 V, 36 Ah (optional with second battery and Y-cable) |
| Dimensions | | | | |
| Length | 1900 mm | 1900 mm | 1993 mm | 1993 mm |
| Wide | 690 mm | 690 mm | 742 mm | 742 mm |
| Height | 1130 mm | 1130 mm | 1136 mm | 1136 mm |
| Seat height | 780 mm | 780 mm | 790 mm | 790 mm |
| Front tire | 100 / 80-14 | 100 / 80-14 | 100 / 80-14 | 100 / 80-14 |
| Rear tire | 110 / 70-13 | 110 / 70-13 | 120 / 70-14 | 120 / 70-14 |
| Wheelbase | 1320 mm | 1320 mm | 1360 mm | 1360 mm |
| min. Ground clearance | 125 mm | 125 mm | 155 mm | 155 mm |
| max. Permissible total weight | 281 kg | 284 kg | 270 kg | 282 kg |
| Empty weight without battery | 92 kg | 95 kg | | |
| Rear frame max. Load | 30 kg | 30 kg | 40 kg | 40 kg |
| Rim | Aluminum alloy | Aluminum alloy | Aluminum alloy | Aluminum alloy |
| Specifications | | | | |
| max. Power | 2.8 kW | 6.2 kW | 3.0 kW | 6.3 kW |
| max. Speed | 45 km/h | 95 km/h | 45 km/h | 90 km/h |
| Brake system | Disc brake front/rear | CBS braking system | Disc brake front/rear | CBS braking system |
| Charging time (8 A) | 36 Ah / approx. 4.5 | 36 Ah / approx. 4.5 h | 36 Ah / approx. 4.5 h | 36 Ah / approx. 4.5 h |
| max. Range | 36 Ah / 166 km (with 2 batteries / EEC test) | 36 Ah / 150 km (with 2 batteries / EEC test) | 36 Ah / 149 km (with 2 batteries / EEC test) | 36 Ah / 120 km (with 2 batteries / EEC test) |